A few days ago I came across this great clip from the new movie "Forks Over Knives" which discusses how vegan is the new Viagra. In this clip there are many different specialists talking about how when you eat a lot of meat and dairy you will start to clog you arteries. The first one to go is normally that which goes to your penis or clitoris causing erectile dysfunctions and low libido. On the other hand if you choose to eat a healthier plant based diet there will be an increased blood flow to the sexual organs. But don't take my word for it, see for your self.
There are many different types of foods to look for to help you improve your sex life, which makes grocery shopping for healthier foods a lot more interesting. Here are some super sex foods I believe everyone should know about:
Spinach and other Green Veggies
- spinach is a major source of magnesium which helps dilate the blood vessels which means there will be better blood flow to the genital area which in turn creates a greater arousal for both men and women.
Peaches and other Fruit -
Men who consume 200 milligrams of vitamin C a day improve their sperm count. Watermelon is also a great super sex food for it contains citrulline which is converted to the amino acid arginine which has the same basic effect on the body as Viagra.
Oatmeal and other whole grains
- eating oatmeal is one of the few natural ways to boost testosterone in the blood stream. I know, who knew? Testosterone plays a major role in sex drive as well as the intensity of orgasms in both men and women.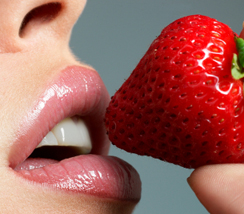 Not only does eating a healthier plant based diet improve your sex drive and erections but it changes the taste of your bodily fluids. Various people have reported that vegan semen is significantly sweeter than that of a meat eaters. ( Note: I am not condoning people to have unprotected oral sex for you should always take precautions when it comes to your health) While the digestion of meat and dairy products negatively effect the taste of sperm on the other hand so does garlic, onions, brussels sprouts, and various veggie curries. You can actual purposely sweeten your semen by ingesting more fruits such as pineapple, and bananas.
Swallowing semen is actual pretty healthy for it contains protein, zinc, sugar, and various vitamins. The only thing you have to watch out for is sexually transmitted diseases. You should always have both you and your partner tested before engaging in any sexual activities anyways so you should be pretty safe if you're monogamous. I do not know how they tested to see what foods change the taste of semen, but my boyfriend who is currently studying to become a doctor informed me that in a lab substances can be tested to be sweet or sour by testing the ph balance. The more acidic (such as meat and dairy) the more sour the taste. The more alkaline (such as various fruits and vegetables) the more sweet the taste. Therefore you do not need to physically taste the semen to know what foods have changed the taste. If you are interested to see the ph balance of the food you are eating, and experiment for yourself check out
The Alkaline Food Chart
.